The team met in Stockholm on 9 and 10 October 2023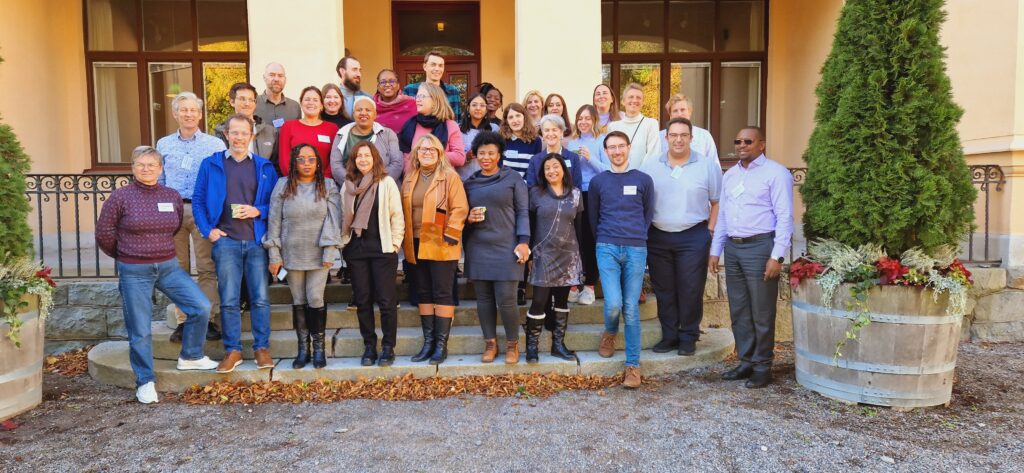 On 9 and 10 October, eleven HIGH Horizons consortium partners gathered at the Karolinska Institute, Stockholm, for their second consortium meeting.
"Our Second HIGH Horizons consortium meeting brought together 32 scientists, policy-makers and implementers, mainly from Europe and sub-Saharan Africa, to discuss the progress following one year of intense work on our project. We discussed the state of the evidence-base around the impacts of heat on the health of women and children, new ways of how we can protect women and children from this heat, and how we can reduce emissions especially from the health sector in sub-Saharan Africa. This fruitful meeting helped us coordinate and accelerate efforts for the years to come. There is no time to waste."

Dr Stanley Luchters, CeSHHAR, LSTM & Ghent University
During these two days we received an update on the achievements made so far, followed by technical discussions on the preliminary results:
Indicators: In April 2023 the World Health Organization held a first meeting in Geneva to initiate a process to select indicators to monitor the impact of extreme heat on maternal, newborn and child health. Analyses of heat impacts and data science predictive modelling using health data from Sweden, Italy, Greece, Kenya and South Africa have started. The systematic review on the adverse outcomes of heat on maternal health has been updated.
Early Warning System: A personalized Early Warning System will deliver notifications and setting-specific messages to pregnant women, mothers and health workers in South Africa, Sweden and Zimbabwe. The prototype, decision tree, thresholds and locally co-designed messages for the smartphone app 'ClimApp-MCH' are being developed and were thoroughly discussed.
Adaptation interventions: The study on the impact of heat exposure on health worker wellbeing, health, productivity and quality of care, has started in South Africa and Zimbabwe. This study consists of mixed methods research, including a repeated measures study design, participant observation, in-depth interviews, a time motion study, and key informant interviews. The findings will inform the selection of adaptation interventions in the selected health facilities.
Mitigation interventions: Carbon emissions in health facilities in Kenya, South Africa and Zimbabwe were measured using the carbon management tool of the Aga Khan Development Network. CARBOMICA (CARBOn Mitigation Intervention for healthCare fAcilities) was developed by HIGH Horizons as a resource allocation tool to improve the healthcare sector's carbon management efficacy. This tool helps to inform and guide decision-makers in the strategic distribution of scarce carbon mitigation resources, and will support the selection of mitigation interventions which will be implemented and evaluated by HIGH Horizons.
Biomarker study: Specific biomarkers are measured during pregnancy and in infants in a prospective mother-child birth cohort in Greece to explain the role of heat exposures on adverse health effects. The protocol for the biomarker study was finalised and ethics approval was obtained.
"During the first year of HIGH Horizons we have been able create an amazing team of collaborators across 11 countries and get started with early phases of our research. It was wonderful to see everyone in person and hear all the exciting updates."

Debra Jackson, LSHTM
"Our second annual consortium meeting is a testament to our shared commitment and dedication in identifying impactful mitigation and adaptation interventions to address the effects of heat on the health of vulnerable populations including pregnant women and healthcare workers. While we have achieved critical milestones, we must not lose momentum in pursuing the HIGH Horizons mission and vision. I look forward to continuing to shape the future we believe in".

Dr Gloria Maimela, Wits RHI
A particular highlight was virtual field trip to see three of the study sites in South Africa, put together by the team at Wits RHI.
A big thank you to the team at the Karolinska Institute for the successful organisation of our annual meeting. Also special thanks to two of our Scientific Advisory Board members who attended our annual meeting and participated actively in the discussions.
Many of us stayed longer in Stockholm to attend the ENBEL conference on 11 and 12 October and to participate in the cluster event at the closure of this conference, you can see updates on this here.